Cream Street Cookies
Post and Beam cookies are made with fresh, local, Vermont-"grown" ingredients. The variety of flours used in these cookies are all from King Arthur Flour, in Norwich, Vermont. These high quality flours that have been tested, researched, and designed to meet the needs of bakers throughout the country. The extracts, dried fruits, nuts, zests, toasted coconut, and specialty sugars represent the highest quality of supplemental flavors, and are also available through the retail store.
The dairy ingredients are all Vermont-produced, and available locally through farmers in our community.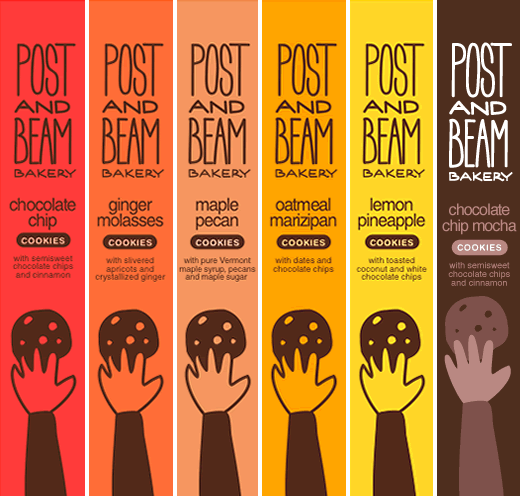 chocolate chip

the extraordinary ordinary cookie that you can't live without. This is a chewy cookie that is over-flowing with chocolate chips so that all your senses tingle with melted sweetness.

chocolate chip mocha

The "buzz" around town is that this tasty cookie will keep you energized throughout the day. The marriage of richly flavored Dutch-process cocoa chocolate and artisan espresso by Rojo's Roastery results in a spirited cookie that will add mileage and hours to your day.

ginger molasses

the snappy cookie with "Schwing", will be coming out in October, right in time for dunking in mulled apple cider. The crystallized ginger and lemon zest flush your cheeks with warm Fall flavors, just in time for the nippy autumn nights.

lemon pineapple

the vacation cookie (this cookie makes everyday a vacation) …the one cookie to take to the desert island. This cookie combines tropical island flavors of coconut, lemon, pineapple, and white chocolate, creating a complex layering of aromas, within a light and airy cookie.

maple–pecan

this cookie makes your sap boil over. This Vermont-cultivated cookie captures the essence of maple flavor, in the highest quality of locally-produced maple syrup and maple sugar...right from Thetford, Vermont!

oatmeal marzipan

is an old-time favorite, a homespun cookie with an almond twist and a few additional unexpected flavors. This cookie will be "released" as Winter approaches and cookie consumers seek extra energy for wood-stacking, shoveling, skiing, and skating.