About My Home Bakery…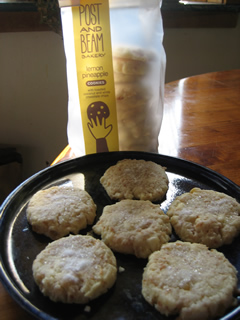 Post and Beam cookies are single-batch, one cookie sheet at a time treats, baked in my cozy Vermont kitchen. Located in the Connecticut River Valley, local farms and food -crafters provide easy access to fresh and tasty ingredients. I have created artisan cookie recipes that reflect combinations of seasonal and home-hearth flavors that are intended to appeal to the sweet tooth in each of us.
Who I Am
I enjoy baking and experimenting with the variety of flavors and textures that can be combined in such a small quantity of dough. My intent is that the process of experimenting with a fusion of flavors results in a cookie that has an overall pleasurable flavor, and includes ingredients that awaken many taste buds.
How the Cookies Came to Be
Post and Beam cookies have been generated from a community of family, friends and colleagues who have tasted, supported and encouraged me to produce them during the past ten years.
When I was a recent Graduate student at Lesley University, my cohort of students spent intensive monthly weekends together. I discovered that baking provided me with a creative outlet while responding to the demands of juggling teaching and course work. My friends in the Cohort were an eager audience for my cookies, providing feedback and inspiration, encouraging me to continue with my baking. In addition, my Vermont teaching colleagues have been a steady tasting audience, testing out flavors, and using their feedback to fine-tune my ideas.
The Family Connection
My family has been loyal and honest cookie tasters, willingly eating dozens of cookies at family gatherings and celebrations, providing me with a vast array of cookie flavor ideas. My older son Aaron, who lives in Northampton, MA, is the graphic designer who conceived of the Post and Beam "look" and concept, using his creative wit and humor to style the packaging and labels of the cookies. Jesse, my younger son, who teaches in Brooklyn, and my husband James, have been an ongoing source of encouragement for this small-batch cookie endeavor.